Windowsills are availible in PCV or stone for both in- and outdoor use. There are a wide range of colours and styles so the possibilities are endless. Do you need help with montage, Akka will act as intermediary in getting a fitter.
Windowsills are supplied by Pietrucha. Click on their logo below to see their range of products. The site is in english, polish, german or russian. The english translation is somewhat limited. Do you have any language difficulties please do not hesitate to contact Akka. When you have found something of interest, click on "Contact" above.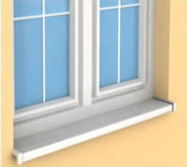 Universal PVC windowsills Designed for installation with PVC, wooden and aluminum windows Produced in coextrusion technology - core made of foamed polyvinyl chloride is covered with hard polyvinyl chloride layer. Used as internal and external windowsills. They may be...
read more
I want to be contacted by Akka!
ul.Granitowa 67
70-750, Szczecin
Adress
ul.Granitowa 67
70-750, Szczecin