External aluminum windowsills – rolled
Designed for installation with PVC, wooden and aluminum windows.
Two techniques of production – pressed or cold bent.
Aesthetic and permanent (very resistant to weather conditions).
Properly mounted, they protect well building front elevation and drain water.
Resistant to moisture, staining, non-flammable, resistant to chemicals and cleaning agents used in house.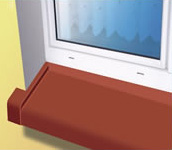 ul.Jasna 15 lok.3 (Ryneczek Słoneczne )
70-777 Szczecin
Adres
ul.Jasna 15 lok.3 (Ryneczek Słoneczne )
70-777, Szczecin